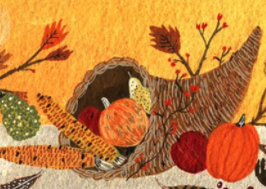 Thanksgiving Dinner for Families in Need
If your family could use some hot food on Thanksgiving, please sign up here right away.
This opportunity has come up just recently and they can take up to 50 families.
Cena para familias necesitadas para el día de Acción de Gracias
Si a su familia le vendría bien algo de comida caliente el Día de Acción de Gracias, regístrese aquí de inmediato. Esta oportunidad ha surgido recientemente y pueden albergar hasta 50 familias.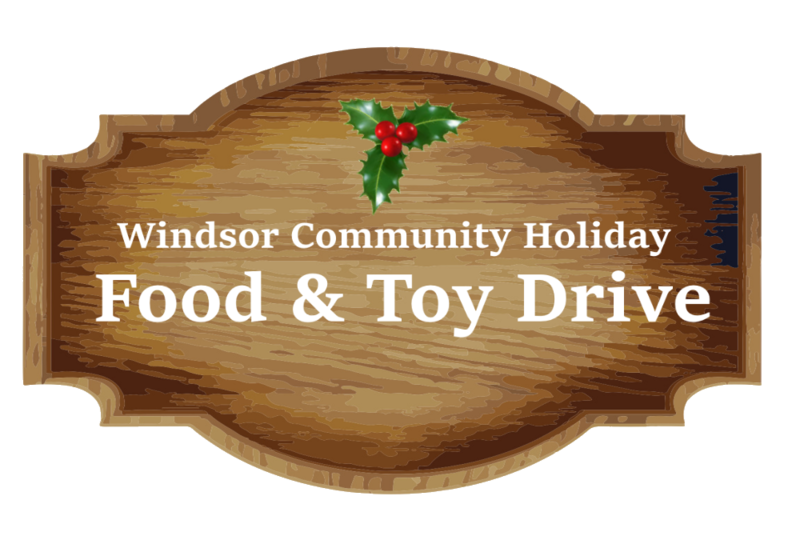 Windsor Food and Toy Drive
If your family needs support this season and you would like to sign up for toys and food for your family, please sign up right away. Families will be given gifts and food on December 18th at the Cali Calmécac gym.
Toy and food donations will be gladly accepted as of Nov. 29. Volunteer are needed to wrap gifts and packing the food boxes. More volunteer details coming soon.
Recolección de alimentos y juguetes de Windsor
Si su familia necesita apoyo esta temporada y le gustaría inscribirse para juguetes y comida para su familia, inscríbase ahora. Las familias recibirán regalos y comida el 18 de diciembre aquí en el gimnasio de Cali Calmécac.
Las donaciones de juguetes y alimentos serán aceptadas con gusto a partir del 29 de noviembre. Se necesitan voluntarios para envolver los regalos y empacar las cajas de alimentos. Más detalles sobre voluntarios próximamente.
Flyer / volante
---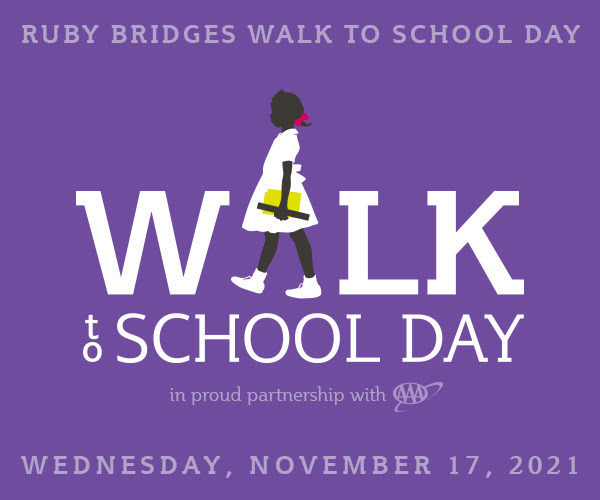 TOMORROW, Wednesday, November 17
Walk & Roll for Ruby Bridges, Town Green, by 7:45am
This day has a special reason to honor Ruby Bridges and to walk for ending racism. Read more here.
MAÑANA, miércoles, 17 noviembre
Caminar y Rodar a la escuela en honor de Ruby Bridges, llegar al Town Green a más tardar las 7:45am
Este día tiene una razón especial para honrar a Ruby Bridges y caminar para terminar con el racismo. Leer más aquí.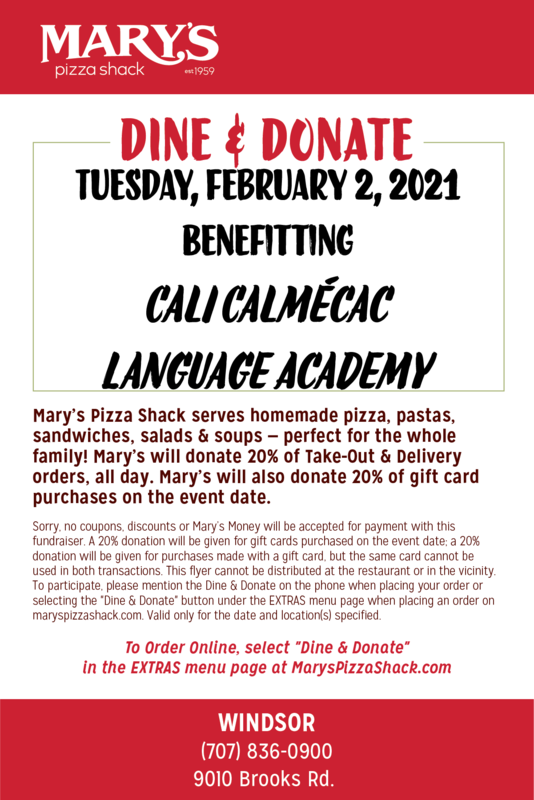 TOMORROW, Wednesday, November 17
Dine & Donate at Mary's Pizza Shack
Support the 8th grade class by dining at Mary's Pizza Shack in Windsor.

MAÑANA, miércoles, 17 noviembre
Comer y Donar en la pizzería Mary's
Apoye a la clase de octavo grado comiendo en Mary's Pizza Shack en Windsor.
Flyer / volante
TOMORROW, Wednesday, November 17
ELAC Meeting, 4:30pm
This meeting is for the parents of students that are English Learners.
MAÑANA miércoles, 17 de noviembre
Junta de ELAC, 4:30pm
Esta junta es para los padres de los estudiantes que son aprendices del inglés.
https://wusd-org.zoom.us/j/96871438905?pwd=TDFsWUs0cDlicHdQY2ttYUIraDB6Zz09
Meeting ID: 968 7143 8905
Passcode: 041719
---
Thursday, November 18
Staff Appreciation Lunch by Cali PTA
We wanted to let you know that even though we can't take your wonderful homemade meals quite yet, Cali PTA is still providing a prepared lunch for our teachers and staff in appreciation for all they do. If you would like to help us with the drinks, please take a look here and bring the items to the office either Wednesday or Thursday morning.
Jueves, 18 de noviembre
Almuerzo de agradecimiento al personal por la PTA de Cali
Queríamos hacerles saber que aunque todavía no podemos aceptar sus maravillosas comidas caseras, la PTA de Cali todavía está brindando un almuerzo preparado para nuestros maestros y personal en agradecimiento por todo lo que hacen. Si desea ayudarnos con las bebidas, mire aquí y tráigalas a la oficina el miércoles o el jueves por la mañana.